Windkraft Simonsfeld creates jobs for the energy turnaround
Windkraft Simonsfeld is one of the largest wind power producers in Austria and also one of the most attractive regional employers. Now the energy turnaround company is expanding its headquarters in Ernstbrunn (Lower Austria) and creating new jobs for its currently more than 100 employees*. The ground-breaking ceremony took place with, among others, the management team of Windkraft Simonsfeld, Markus Winter and Alexander Hochauer, Member of Parliament Andreas Minnich, Mayor Horst Gangl, Deputy Mayor Gerhard Toifl, architect Juri Troy and numerous representatives of the construction companies.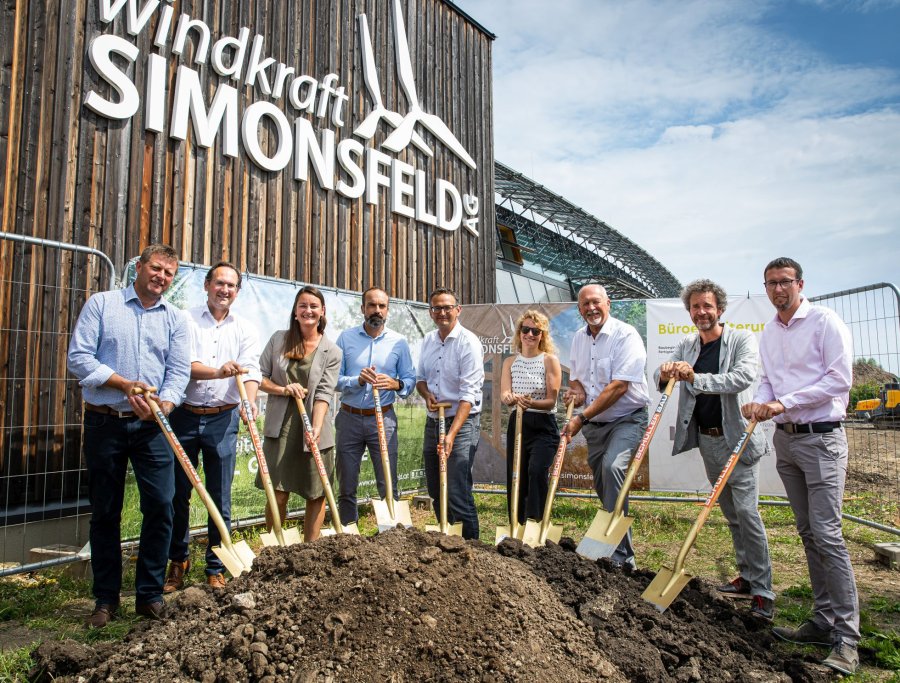 Ecological flagship project with highest user quality
"With our new company building, we want to implement an ecological flagship project and at the same time create an innovative workspace that offers ideal and modern working conditions for our growing team. The development was therefore carried out in close dialog with a user group of employees," explains Alexander Hochauer, Chief Financial Officer of Windkraft Simonsfeld. The building will be constructed according to the highest ecological standards: A wooden construction with clay walls will expand the existing office and at the same time merge it into an innovative new building. With 1,900 m2 of additional usable space, the building will offer not only office space but also an expanded kitchen, numerous rooms for exchange and teamwork, plenty of daylight and an event hall that can be used in a variety of ways. The centerpiece is an inner courtyard that will be a meeting place.
Growth and new jobs
The expansion of the headquarters in Ernstbrunn underscores the international company's ties to the region. "Windkraft Simonsfeld creates attractive green jobs and apprenticeships in the Weinviertel region in a dynamic industry of the future. We are investing in the energy transition and currently have more projects than ever in development. Implementation is only possible with a qualified and motivated team. We want to offer them the best possible working conditions and training," says Markus Winter, Chief Technology Officer of Windkraft Simonsfeld. The growth and attractiveness of the company is also reflected in the number of employees, with 24 new employees joining the company last year alone.
"Windkraft Simonsfeld has been an important partner in the field of energy, climate & environment for our market community since the start of the company, the cooperation is lived honestly, solution-oriented and with handshake quality. I congratulate on this office expansion and on the groundbreaking ceremony and I am already looking forward to seeing how further projects in Ernstbrunn - such as the planned open space PV - will be realized", says Horst Gangl, Mayor of Ernstbrunn.
Andreas Minnich, Weinviertel NR Member of Parliament, adds: "Windkraft Simonsfeld is a showcase company in Lower Austria and at the same time an internationally active company. You can see here how the energy turnaround is lived: through the perfect interplay of technology, performance and, above all, through the right people coming together and working together. This will certainly be further promoted by this addition."
The project was planned by the architectural firm Juri Troy ZT GmbH under project management by M.O.O.CON. Construction already began in July, and office operations are scheduled to start in December 2024. Juri Troy describes the construction as a project that is almost running in fast motion, so quickly is it progressing: "We were convinced from the very beginning that we could create something extraordinary here together, and we as a society should try to let the extraordinary become the new normal."